Sipping and streaming presents:
The Dude and a White Russian Walked Into a Bar...
Celebrating moments in time when pop culture and adult libations converge to create the perfect union of entertainment and spirits.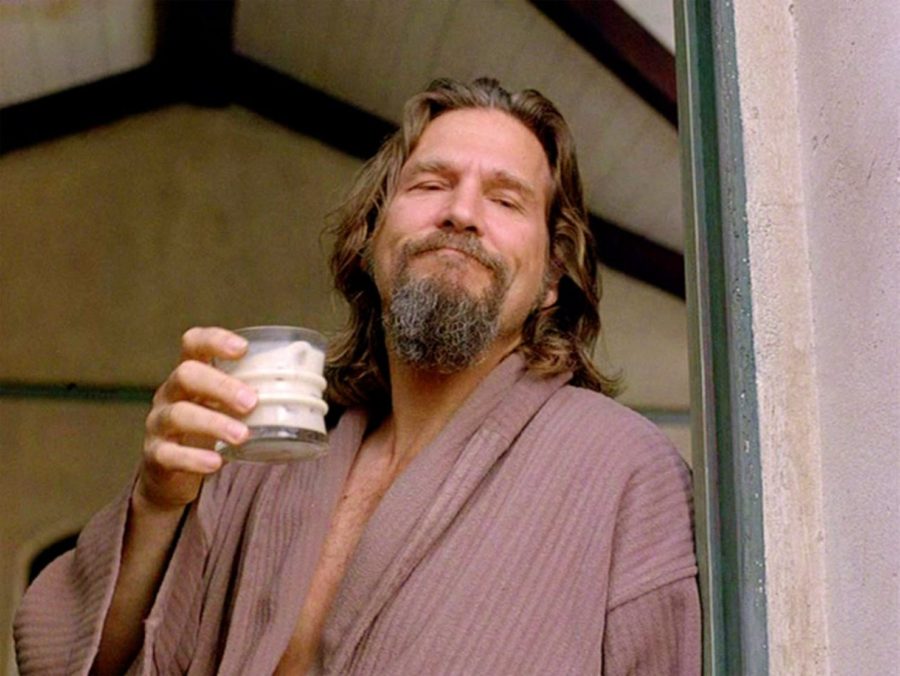 Forever Inseparable
One Pair to Rule Them All
Laurel and Hardy. Abbott and Costello. Bacall and Bogart. Lucy and Ethel. John and Jackie. Martin and Lewis. Sonny and Cher.
There's a long list of legendary, iconic pairs that are forever linked together as one entity, inseparable until the end times finally arrive.
One pair, in particular, serves our purposes well. They are as legendary as the frozen tundra of Green Bay's Lambeau Field, or the tall, proud Green Monster of Boston's historic shrine to our National Pastime, Fenway Park.   
It is "The Dude" from the Coen Brothers  1998 movie, The Big Lebowski, and it is the White Russian, the almighty adult beverage of the film's captain of cool.
Sometimes there's a man. He's the man for his time in place. He fits right in there, and thats the Dude. Sometimes………. there's a man.
The Big Lebowski is the Coen Brothers film nestled perfectly between two of their most celebrated films. Fargo was their 7 time Oscar nominated career highlight up to that point in 1996, a virtually perfect black comedy which netted Frances McDormand a Best Actress Academy Award, and a Best Original Screenplay win for the Coen Brothers.
In 2000, they released their surreal, Grammy-winning, gorgeously filmed musical comedy O Brother, Where Art Thou? Typical of their filmography, faces from their other movies would play key roles. In this case, two Lebowski castmates, John Goodman, and "Jesus" himself, John Turturro.
In between these epic releases was a little film full of big ideas, bowling alleys, wrongful identifications with hilariously incompetent criminals, a now mythical lead character, a rug that really tied the room together, and an endless supply of the classic drink, the White Russian.
As you can see in the chart below, The Big Lebowski was not one of their Oscar-nominated films, but today it is considered one of their most memorable films, the very definition of a cult classic that still retains all of its dark humor and charm today.
Please note:  Vedafy.com is a participant in the eBay Partner Network (EPN). When you click on links to various merchants on this site and make a purchase, this can result in this site earning a commission. Affiliate programs and affiliations include, but are not limited to, the eBay Partner Network.
The Big Lebowski, a Film by Joel and Ethan Coen
Before getting into the cocktail, let's go through "The Big Lebowski" by the numbers, as well as some movie facts you may not be aware of, all of them curated from this Short.list.com article: 
50 things you (probably) didn't know about the Big Lebowski:
The number of times the word "dude" is used: 161
The number of times the the White Russian appears: 9
The number of times the rug being peed upon was mentioned: 17
The number of time the F-work and it's variations is used: 292 
Here are three of the more 'interesting things' from their list:
The Dude's character is inspired by film promoter Jeff Dowd, who helped secure distribution for the Coen brothers' first movie. Like his fictional incarnation, Dowd was a part of anti-war group, the Seattle Seven, and has a relaxed attitude towards grooming and wardrobe.
The $0.69 check The Dude writes for milk is dated September 11 1991, exactly 10 years before the 9/11 terror attacks. Even more spooky, George Bush Sr can be heard on the TV, making his "This aggression will not stand" speech, in reference to the war. Of course, all of this took place a few years earlier, as this film was made in 1998.
The film has spawned its own festival. Starting in Kentucky in 2002, Lebowski Fest has been held in such cities as Los Angeles, New York, Seattle, Chicago, London and Edinburgh. Jeff Bridges, John Goodman, Steve Buscemi, John Turturro and Julianne Moore are all previous attendees.
Jeff Bridges would appear again in another Joel and Ethan Coen film.  He took on the role of John Wayne's rough, no-nonsense Deputy U. S. Marshall Rooster Cogburn, in 2010's True Grit, a role that would land him an Oscar nomination for Best Actor.  He didn't win, though perhaps that was due to the fact that he just won the Best Actor Oscar the previous year, for his performance in Crazy Heart.
Let's make the WHITE RUSSIAN
Simplicity is, of course, the key. Kahlua, vodka, heavy cream. Ice. Preferably served in an Old Fashioned glass. 
The true origins of this drink will forever be shrouded in history, but the generally accepted story is that it most certainly is a direct descendent of the Black Russian, created at a hotel bar in Brussels, Belgium in 1949. At some point over time, someone decided to add cream to this vodka and coffee liqueur cocktail, and the White Russian would be born.
With all of the sexy cocktail drinks available during the Mad Men era of the 60's and the rock and rolling disco ball period of the 70's, drinks with a dairy ingredient were not the preferred cocktail of it's time. Until….a certain late 90's film would inspire an entire generation to embrace the legend of the Dude and the simple cocktail that would forever be part of the coolest character of the 1990's.
The best basic recipe is detailed in this link, courtesy of TheTravelingcocktail.com:
INGREDIENTS / INSTRUCTIONS
2 fl oz Vodka

1 fl oz Coffee Liqueur (i.e. Kahlúa)

1/2 – 1 fl oz Heavy Cream
In an old fashioned or rocks glass, add 3-4 ice cubes, vodka, coffee liqueur, and stir.

Gently pour heavy cream atop as desired, stir.
Variations: This handy article offers numerous tips for perfecting it, but this has to be one the most valuable tips they offer:
"While cream makes a richer drink, know that you could substitute half and half, whole milk, reduced or low fat milks or even skim milk in your White Russian."
They also offer these tasty variations:
Make your Black Russian in a tall highball glass and tops with a splash of cola and you have a Long Black Russian.

Add cream or milk to a Long Black Russian and you have a Colorado Bulldog.

Turn a Long Black Russian into an Irish Russian by adding enough Guinness to form a head on the drink.

To make a Blonde Russian, replace the cream or milk with an Irish Cream Liqueur, such as Bailey's or Carolans.

Use skim milk in your White Russian to get an Anna Kournikova.
We hope you enjoyed this trip down cinema history along with our look at this classic cocktail.  The Big Lebowski is available for rent on most of the available streaming services like Amazon and Vudu.  It is also available now for subscribers of the new service PeacockTV Premium.
Be sure to check out our HOME PAGE for our latest stories.
About the writer:
After years of watching and reading a few of my favorite things, it's time to write about them. Movies and television, with a focus on comic book characters and stories filling up our movie theaters and TV screens.
Here's the story about how all of this started, beginning with a random trip to a corner store in 1979.
My comic book journey during the golden era of the 1980's
Thank you for joining us here.   
Dan O'Brien – Haverhill, MA, USA